MBS Packages
All paid packages come with a 30 day money back guarantee. You can't go wrong!
Free
Saver
Standard
Premium

FREE




Includes bulk bill outpatients (Medicare and DVA) & no-gap inpatients only.
Subject to user verification

$99/month




$199/month




$249/month



1 Provider
1 Provider
1 Provider
1 Provider
1 provider number
1 provider number
Unlimited provider
numbers
Unlimited provider
numbers
20 claims*‡
50 claims*
100 claims*
Unlimited claims*
Instant processing available
Instant processing available
Instant processing available
Instant processing available
10 picture conversions †
30 picture conversions †
100 picture conversions †
Customised invoicing and templates
GET FREE FOREVERGET SAVERGET STANDARDGET PREMIUM
All prices quoted ex GST. Synapse reserves the right to change pricing at any time.
Features
All paid packages include the following features:
Free iPhone and Android apps
Free Medicare and health fund registrations
All billing types – bulk billing, no-gap, known-gap, direct to patients and WC/TP
Send claims directly to WC and TP payers with one click – no more paper
Instant processing is available for all of your subsequent consultations and for new patients with manual data entry. Picture conversions take a few hours but same day processing is guaranteed, depending on your preferences.
Australia's only medical billing rules engine supporting your compliance
Your specific rules added to the rules engine with our regular updates
Create your own financial reports. No waiting until the end of the month. Completely customisable for both cash and accruals accounting
Secure SSL encryption. Privacy and security is central to everything we do
Live chat support from 10:00am to midnight AEST business days
Unlimited claims follow up using the 'Send to Synapse' function. We charge additional fees for this service as follows: $5 flag fall per claim* plus 20% of collections, capped at $80 per claim
Remember, the more you trust the app, the more your claims will be paid the first time.
* A claim is one patient, one date of service and unlimited item numbers.
‡ Free forever package is strictly no-gap inpatient claims and bulk bill outpatient claims. If you wish to charge gaps or have any manual claiming requirements please choose another package.
† Picture conversions are calculated monthly based on your sign up date, and replenish at the beginning of your next billing period.

IFC Features
IFC is pre-payment only. Includes initial SMS message and payment processing with full explanation of fees and rebates when the patient calls to pay
Free merchant facility included (bank fees may be charged by the financial institution)
Theatre lists and patient contact details, including mobile phone number, must be provided to us via the app by 9:00am no less than 3 full business days before the date of service
You must send your billings to Synapse via the app within 24 hours after you have provided the service to enable us to promptly process rebates for your patients
How it all works
The nitty gritty.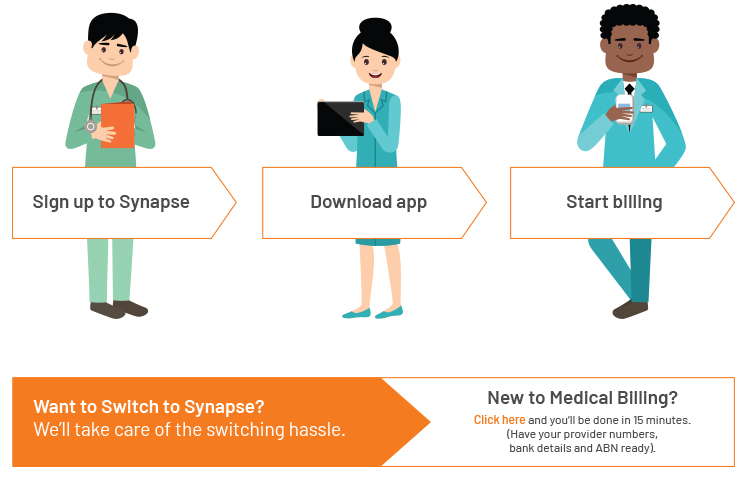 The hard facts.
Forget everything you know about medical billing. We have tipped it on its head.
No more percentage fees. Just a low cost, transparent, monthly subscription.
No more paper. Even workers comp claims go with one click to the payers.
Service on-demand. You can use us as much or as little as you want with the 'Send to Synapse' function.
You can sort out easy rejections yourself to save money, and just send the hard ones to us, or both.
Whatever you want, whenever you want it.
You have complete control and visibility over your billing with a single entry point for claims –
the app in your hand – and if your authorised person changes a claim, you'll be notified.
Still haven't found what you're looking for?
Call us on 1300 510 114 or contact us to find out about tailored packages and other services.
CONTACT US