April newsletter

Welcome to our first newsletter for 2015.
It's already been an exciting year for Synapse, with our new Melbourne office now open for business and a new budget billing service, Synapse Saver, coming on stream next month. We've brought in some talented new staff members to help us manage the growth and I'll introduce them to you later in the bulletin. There's also an exciting new data conversion service available for Synapse clients as well as lots to tell you about enhancements to Synapps, our unique billing app.
I hope the year is off to a great start for you too!
Best wishes,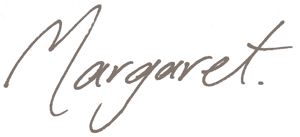 In this issue…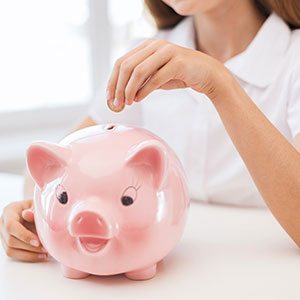 New budget billing service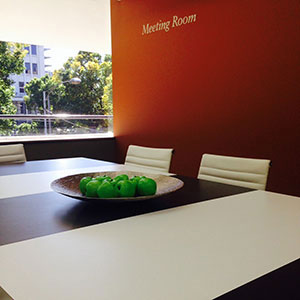 Use our Melbourne Office board room for free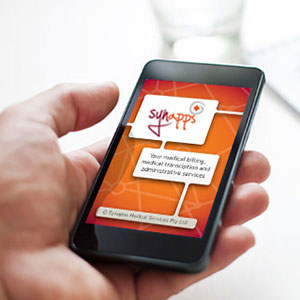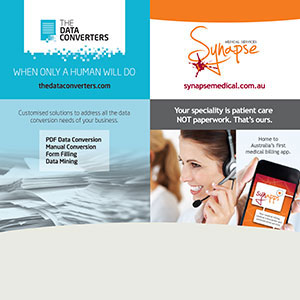 Read on for these articles and more…

Melbourne Office Update

Our swanky new Melbourne office is now open and we'll be holding a grand party to celebrate, so watch out for your invitation.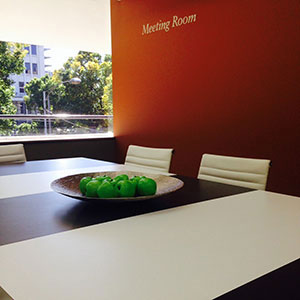 As promised, our fully equipped conference room is available to Synapse clients, so please take advantage of this free additional service. Our Melbourne office is centrally located, right on Victoria Parade in East Melbourne, and the conference room is sound-proofed and fitted with AV equipment. You can also help yourselves to our Nespresso! It seats 10 comfortably (14 at a stretch) and it's a perfect spot for a departmental meeting, registrar teaching or a research symposium, so why not book the room and step out of the hospital for a while next time you have one of these events.

'Appenings

Patent 2013255082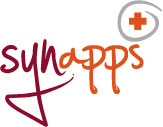 There's good news on the app front this year: Synapps version 2.0 will soon bring you the biggest enhancements we've made since launching the app in November 2012. When you download Synapps version 2.0 you'll be able to:
Synchronise the app on your smart phone and your tablet. So if you've been using
Synapps on your smart phone all day, you can switch to the bigger tablet screen to finish off your billing more comfortably when you get home or to your office. All the information will be on both devices; you choose which one you want to use at any time
Integrate the information from our Appointmaid virtual reception service to Synapps, so that the only billing information you'll have to enter into Synapps for an Appointmaid patient is the Medicare item number
Run multiple consultation lists for different locations. In the current version of Synapps you have to complete and send the consultation list for one location before you start the list for another. Version 2.0 lets you run multiple lists concurrently
Use our brand new interface for anaesthetists, which will make the complex process of billing anaesthetic services much, much easier
You'll also notice some other design and performance enhancements when you download Synapps 2.0. We'll be contacting all our clients at the end of April to let you know when you can start to use it.
If you haven't already, you can now download version 1.3.6 from the App Store for iPhone and iPad users and on Google Play for Android phone and tablet users.

A new budget service – Synapse Saver – it's our version of Jetstar!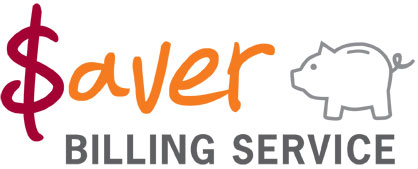 Hot on the heels of Synapps 2.0, we'll be rolling out a new budget billing service designed especially for clinicians who exclusively use no-gap schemes, Medicare bulk billing and Veterans' claiming. Synapse Saver clients will pay lower fees for what will be a less extensive service, but there will be no compromise on the quality of the work we do. Synapse Saver will also offer full access to Synapps.
In return for the lower fees, Synapse Saver clients will do their own follow-up work with third parties for claims that are unpaid. If you're a new clinician starting up practice, or using a billing service for the first time, this is a good way to keep costs down, as long as you're confident that 99.9 per cent of the data you provide will be accurate, and you have someone to do a bit of administrative work in case of unpaid claims.
One of our goals at Synapse is to tailor our services to suit the various needs of our different clients more closely. Synapse Saver is something that's come out of this focus and we hope that some of you, or your colleagues, will find Synapse Saver is the right fit and can save you money.

Seeing you at conferences this year – our 2015 conference program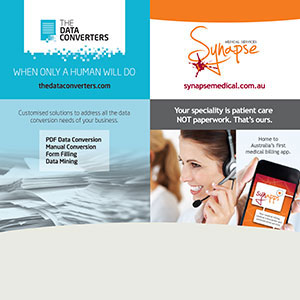 The conference circuit is an important part of how we keep up to date with the latest developments in digital technology and medical practice. It's also a good opportunity for us to meet with medical practitioners, tell you about Synapse services and learn more about your needs.
In 2015, the Synapse team will be on deck at the following key events:
We'll kick off with the Connect Expo (Melbourne Convention Centre, April 22), which is gathering Australia's best and brightest to discuss how digital technologies will change the way we do business in the future
Next up is HIC 2015 (Brisbane, 3-5 August), Australia's premiere digital health, e-health and health informatics conference
With barely a moment to spare we'll continue to the annual conference of the Cardiac Society of Australia and New Zealand (CSANZ) in Melbourne (13-16 August)
Finally, we'll be at the AFRM/NZRA Combined Rehabilitation conference, at the Intercontinental Hotel in Wellington, New Zealand (13-17)


My most recent post on the Crikey health blog, Croakey, is the précis of an article I first authored for the Internal Medicine Journal (4 Feb, 2015), titled No payments, copayments and faux payments: are medical practitioners adequately equipped to manage Medicare claiming and compliance?
The authors concluded that research on clinicians' experience and understanding of Medicare claiming and compliance is urgently required. Without addressing this gap, proposed Medicare reforms may do nothing more than increase the incidence of both deliberate and unintentional non-compliance with the Medicare billing system.
To read a précis of the article visit here.

Introducing Our New Staff

I'm delighted to announce that Devesh Sharma, one of the talented MBA students from the UNSW Australian Graduate School of Management that we welcomed as an intern last year, has joined the company to oversee Strategy and Operations.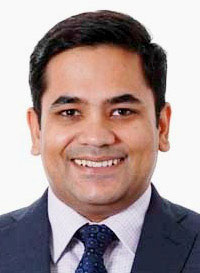 Devesh brings eight years of project management experience, specialising in business models and design solutions that keep the customer's interest at the forefront. He is currently analysing Synapse's internal and external processes at the operational level, to develop ways to increase our productivity.
The strategic work Devesh is doing at Synapse is furthering our goal of providing services tailored specifically to our clients' different needs.
The other new and valued members of our team are Asif Haideri, who has accepted a position as a Client Service Administrator and Samanatha Marshall, who has taken up the position of Administrative Assistant.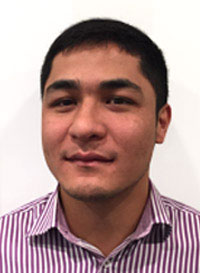 Asif is a highly motivated individual who was educated in the UK and worked in the financial services sector in Australia before joining Synapse. The excellent interpersonal and customer service skills that Asif brings are a very welcome addition to the Synapse team.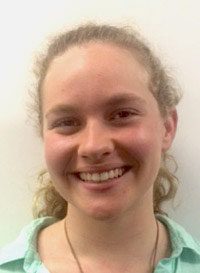 Samantha Marshall is working for Synapse and studying for a Bachelor of Science at Melbourne University. The experience she is acquiring here at Synapse is well suited to her long-term plan to become a doctor.
Samantha was a professional swimmer and a member of the Australian swim team before retiring in 2014. She is a great time manager and a highly organised administrator.
Like to meet more of our fabulous team? You can read about them here.

The Data Converters (TDC)

You might be interested to hear that we are branching out into a new area with the creation of a business line called The Data Converters (TDC). This is a service for professionals, researchers  and businesses whose data has been stored over time in different formats, and who want to bring it together into a single digital format for the future. It's a completely separate business from Synapse and I'm only raising it here in case you have the kind of data headaches TDC is designed for.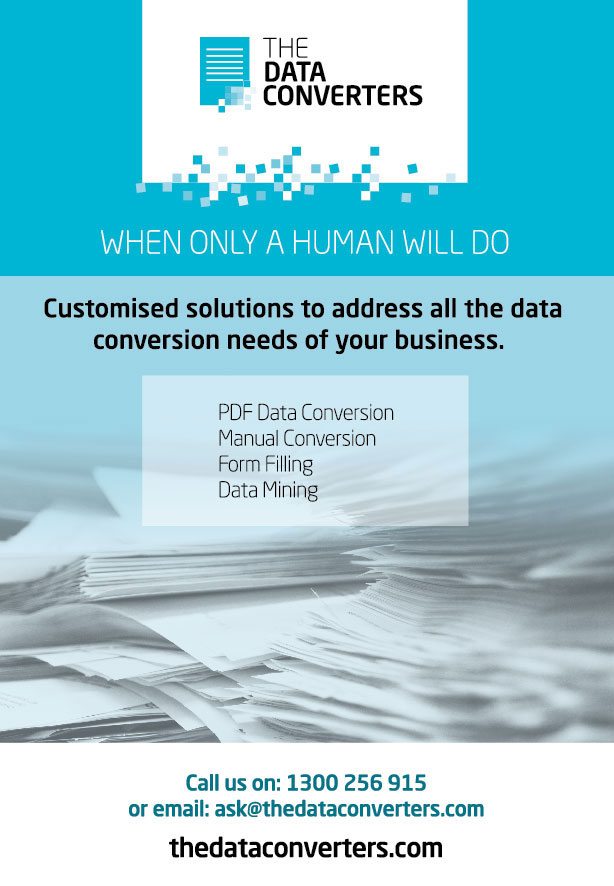 We've stepped into this space to fill a gap in the data conversion services currently on offer, which are generally software based. The problem is that software rarely provides a whole solution for converting paper clutter and old digital files into a single, accessible resource. TDC is providing the human intervention frequently needed to sort out the problems involved. Once we've provided this  project-based service, TDC clients are in good shape to use a software solution to manage their own ongoing data needs.
Incidentally, we have had some interest already from medical professionals to convert data ready for insertion into research databases, data mining (developing contact lists through mining the internet) or even converting old paper patient files into electronic formats.
If you're interested in finding out more about TDC, you can check out the website thedataconverters.com.

Sponsorship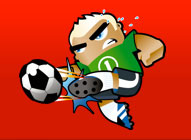 Many of you will be pleased to know that we're continuing to sponsors the Synapse Newington Gunners AAM6 football team in 2015. This group of asylum seekers formed their own team with the help of Settlement Services International and Newington Gunners Soccer Club, and finished last year's season on top of the ladder as minor premiers.

That's all from us until the winter edition, by which time Australia may in the grip of a freezing winter due to the fictitious effect of climate change!