Networking platform "Advance Health" outcome of MoU signed with OPEN Health, Synapse Medical Services and Connect Communications
Dubai-UE: 18 July, 2018
Dubai Science Park (DSP), a science-focused business community, has signed a memorandum of understanding (MoU) with OPEN Health, a communications and market access firm, Synapse Medical Services, a healthcare service provider, and Connect Communications, a strategic communications company, to launch the healthcare networking platform "Advance Health".
The platform converges key stakeholders in the healthcare sector in Dubai, providing access to information, educational events and networking opportunities, Advance Health ultimately aims to improve patient outcomes in the UAE.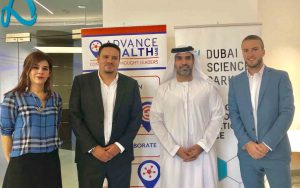 The agreement was signed by Marwan Abdulaziz Janahi, Managing Director of DSP, Sahar Samara, Managing Director of OPEN Health Dubai, Thom Soutter, Business Development Director at Synapse Medical Services, and Marcus Corander, Managing Director of Connect Communications. (Pictured above and left)
Marwan Abdulaziz Janahi, said, "Our latest MoU and the resulting launch of Advance Health underscores our continued commitment to developing the local healthcare sector for the benefit of Dubai's residents. This new initiative cements DSP's leading role as a convening platform that brings together various stakeholders from the government, academia and industry to exchange information while serving as a catalyst for dialogue, creativity and innovation."
Sahar Samara, noted, "It is still early days, but it has been so rewarding to see the overwhelmingly positive response and engagement from different professionals across the healthcare sectors, reinforcing the need for having such an initiative. We want to make a difference, and we look forward to collaborating with key opinion leaders to promote dialogue which can help foster clinical excellence and enhance the overall patient wellbeing and experience."
Commenting on the agreement, Thom Soutter, said, "We want Advance Health to serve the entire healthcare community and hope that's reflected in the variety of the founding members. Ultimately we want to create a first of a kind healthcare platform in Dubai that members can feel part of. We want engagement, feedback and new business opportunities to become a regular part of this initiative. We look forward to growing Advance Health together."
Marcus Corander, maintained, "We're really excited to have launched this collaborative initiative to connect and engage with stakeholders from across the healthcare ecosystem in order to educate and facilitate knowledge exchange. The Advance Health networking sessions will showcase and educate on key topics in healthcare that will ultimately serve to enhance healthcare services and improve patient outcomes."
The MoU is part of a series of recent agreements signed by DSP that currently hosts more than 350 companies and 3,600 industry professionals. The partnerships aim to enhance the local life sciences, healthcare, energy and environment sectors.
About Dubai Science Park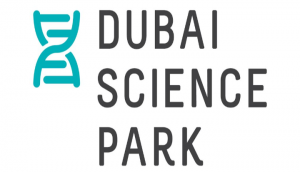 Dubai Science Park (DSP) is a science-focused business community, dedicated to supporting entrepreneurs, SMEs and MNEs. Since its inception, DSP has grown to 350 companies, employing 3,600 professionals in the life-sciences, energy and environment sectors. DSP was designed to fosters an environment that supports scientific research, creativity and innovation by providing a robust infrastructure, comprising of ample office spaces, private laboratories, warehouses and business-units. The community aims to play a significant role in promoting a more self-sufficient future in line with Dubai's stellar ambitions in becoming one of the most sustainable cities in the world.
---
About Open Health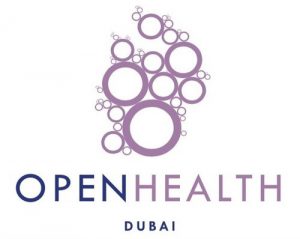 OPEN Dubai is part of OPEN Health; a world-class healthcare communications and market access group, made up of specialist businesses that are each experts in their respective fields. Our highly-qualified teams have broad and deep scientific insights that drive clinical excellence with best-in-class regional expertise spanning across the full spectrum of medical and brand communications. We always strive to deliver innovative, compelling and practical solutions which are tailored to the regional challenges and specific needs within the healthcare landscape.
---
About Synapse Medical Services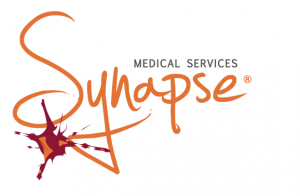 Synapse Medical Services is an international leading provider of healthcare administration services that take the paperwork out of patient care. Specialising in medical billing, clinical coding, consultancy and having a registered healthcare training academy we combine our cutting-edge technology with decades of experience to deliver first class services for government entities, hospitals and medical practitioners. Supporting the foundations of the global healthcare systems in which we operate.
---
About Connect Communications

Connect Communications is a specialist healthcare communications and training agency based in Dubai serving the Middle East and North Africa region. We thrive on strategically supporting our clients to plan and execute meaningful educational and brand-focused initiatives that serve to improve standards of care and patient outcomes. The Connect Communications team combine a passion for high-quality science with extensive experience of the regional healthcare domain.
---
A recent Tweet on the project:
Dubai Science Park Launches Knowledge Exchange Platform to Enhance Dubai's Healthcare Sector https://t.co/Ixb1cDxKTB

— MENA Herald (@MENAHerald) July 17, 2018