Synapse launches a registered training organisation in Chennai.

On Wednesday 3 October, guests attended the launch of the Australian Institute of Medical Administration and Compliance (AIMAC) – a new Registered Training Organisation for Australian company Synapse Medical Services, based out of Syndey, Chennai and Dubai. The launch was attended by senior officials from four countries including representatives from universities and government. This exciting new educational academy was officially opened by speeches from Australian Consul General to South India, Ms Susan Grace and Synapse CEO & Founder, Mrs Margaret Faux.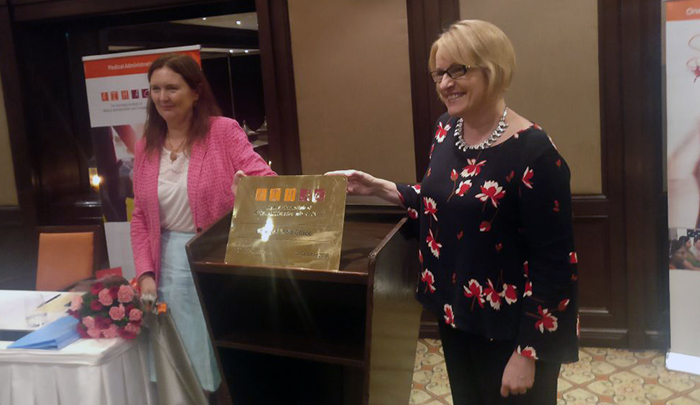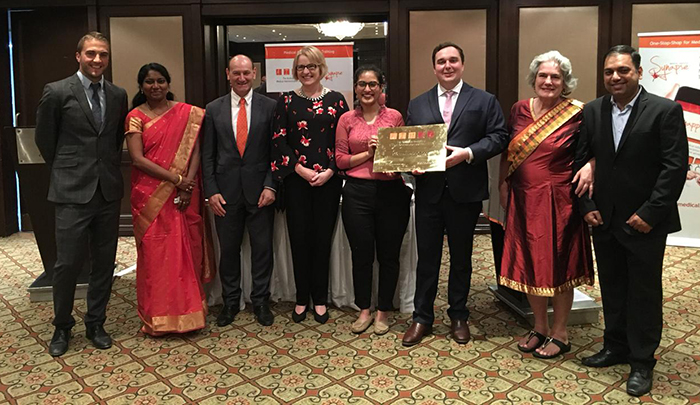 Above left: Australian Consulate General in Chennai, Ms Susan Grace (left) unveils the commemorative plaque with Margaret Faux to officially launch AIMAC.
Above right: (left to right) The Synapse AIMAC team of Thom Soutter, Vidya Bala, Steven Faux, Margaret Faux, Mahin Haque, Tobey Smith, Anna Coote, Hridesh Kohli.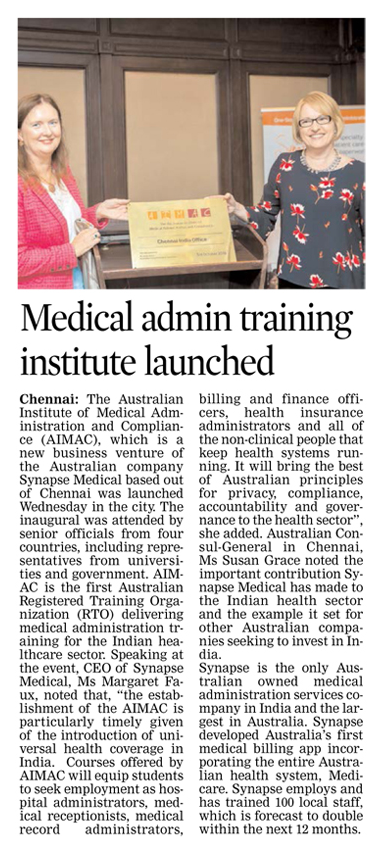 AIMAC is a disruptive academy for students of the digital age. Health is one of the biggest employers across the world, and health administrators are in demand. With Synapse and AIMAC, the health careers of the future will be in safe hands as this new venture will allow flexibility for people and organisations to enrol in specific programmes that spark their interest, fit their budget and propel their careers.
AIMAC will offer blended, self-paced, online learning. As an Australian registered training organisation, AIMAC courses will be accredited through Australia's vocational education and training framework, and will also be aligned with courses provided under the Indian National Skills Development Corporation framework.
We are thrilled that our hard-work has paid off and look forward to bringing our disruptive courses to medical professionals and students who wish to further develop their knowledge and skills set.
For further details please click here and follow AIMAC on:



Click here to read the press release of the event.
News article from the Deccan Chronicle Chennai on 5 October 2018 reporting on the AIMAC launch.