Medical Billing Totally Disrupted!
An app-based medical billing system, with instant processing,
live updates and Australia's first medical billing rules engine.
GET FREE BILLING TRIAL
No more tick sheets, pockets full of stickers and expensive administration.
It's unbelievably fast, unbelievably accurate and unbelievably beautiful.
MBS Billing Packages
*We'll match any lower priced identical product.
DIY Packages
Serviced Packages
Features
Basic
Outpatients
Only
Saver
Standard
Premium
Percentage (3%-5%) *Price Promise
No-Gap
Enterprise
Monthly cost
$39
$69
$99
$199
$249
% of receipted billings
$299
Contact us
Number of providers
1
1
1
1
1
1
1
Unlimited
Number of provider numbers
1
Unlimited
2
Unlimited
Unlimited
Unlimited
Unlimited
Unlimited
Number of claims per month
20
Unlimited
50
100
Unlimited
Unlimited
Unlimited
Unlimited
Number of picture conversions
0
N/A
20
50
100
Unlimited
Unlimited
Unlimited
Can I charge a gap?
No
Yes
Yes
Yes
Yes
Yes
No
Can I bill workers comp, third party and patient claims?
No
Yes
Yes
Yes
Yes
Yes
No
Can I take *credit card payments and lodge patient claims to Medicare?
No
Yes
No
No
No
Yes
No
Can I bulk bill to Medicare and Veterans?
Yes
Yes
Yes
Yes
Yes
Yes
Yes
Can I bill no-gap inpatients?
Yes
N/A
Yes
Yes
Yes
Yes
Yes
Who adds a provider number or changes bank details?
You
You
You
You
You
Us
You
Who follows up unpaid claims?
You
(or S2S)
You
(or S2S)
You
(or S2S)
You
(or S2S)
You
(or S2S)
Us
Us
Who follows up registration with health funds?
You
N/A
You
You
You
Us
Us
Who runs my reports?
You
You
You
You
You
Us
Us (standard reports via website monthly)
All prices are ex GST.
Bank fees not included.*
If you have received a lower priced identical service offering, in writing, from any of our competitors, we'll match it.
Watch how Synapps MBS works
Watch the story behind Synapps MBS
The hard facts
Free iPhone and Android apps
Free sign up
Free Medicare and health fund registrations
Read More +
Auto filled, digitally signed, instantly generated health fund registration forms included with all paid packages
Australia's only medical billing rules engine supporting your compliance
DIY packages include 1 login per provider
No more paper. Even workers comp claims go with one click to the payers
You can watch your claims pass through to paid and receipted status via live updates on the app
DIY packages – run your financial reports anytime. No waiting until the end of the month. Handles both cash and accruals accounting
Secure SSL encryption. Privacy and security is central to everything we do
Live chat support from 10:00am to midnight AEST business days, plus regular updates on new features via videos, emails and random calls from our amazing Synapse support team checking on how you're going
Service on-demand for DIY packages. You can use as much or as little as you want with the 'Send to Synapse' (S2S) function. You can sort out easy rejections yourself to save money, and just send the hard ones to us, or both. Whatever you want, whenever you want it. S2S is charged separately at $5 flag fall per claim* plus 20% of collections, capped at $80 per claim
Decreased risk of third parties changing your billing incorrectly without your knowledge and you being held responsible – because there is a single entry point for claims – the app. You can allow an authorised person to make changes but you will be notified when they do and can even block changes if you want to. You have complete control and visibility over your billing
For packages that exclude following up health fund registrations, and changing bank or provider number details, we are always happy to do this for you for a one off additional cost. Contact us.
A claim is one patient, one date of service and unlimited item numbers on one invoice
Picture conversions are calculated monthly based on your sign up date, and replenish at the beginning of your next billing period
All packages exclude postage, which is charged separately
COVID Survival Pack
A full billing service for just 1% of receipts. Download the app and start billing.
Your patients will thank you.
Stay home. Run your practice from your phone. It's all you need.
READ FLYER
Compare
We have the lowest cost
plans on the market,
a special no-gap
plan with unlimited
claims and more.
GET THE COMPARISON FLYER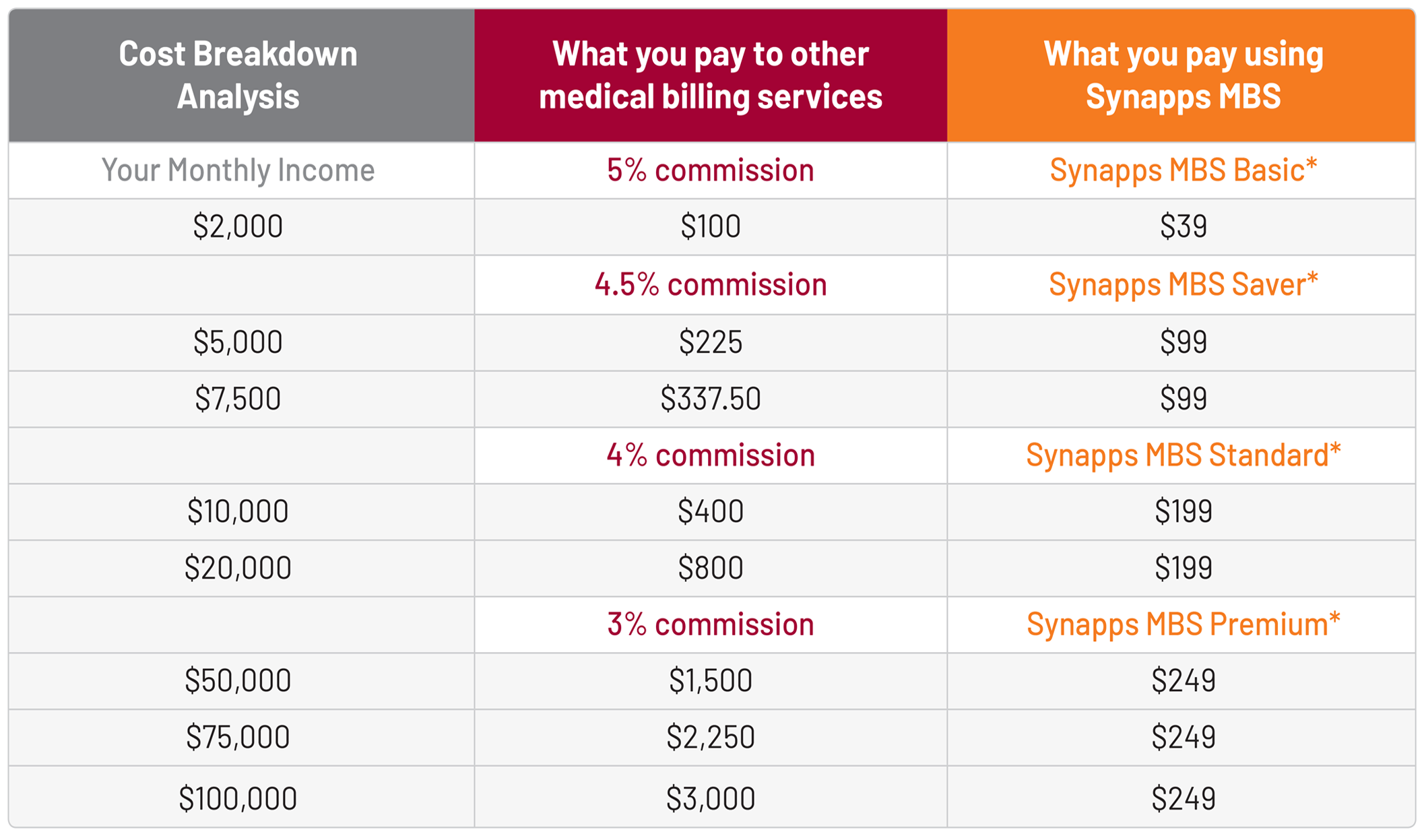 Did you know we now have a new 'One Stop Shop' product for all specialists who are moving into private practice or who just want to lower their overheads and keep things simple.
Are you starting private practice or just want a lean, low cost model?
Synapse 360 is for you!
FIND OUT MORE
We've got you covered
Check out these additional features that have been carefully programmed into the Synapse MBS.
Informed Financial Consent
You can even manage your IFCs
in the Synapps MBS.
Surgical Assistants
Every formula for every health fund has been carefully programmed into the Synapse MBS.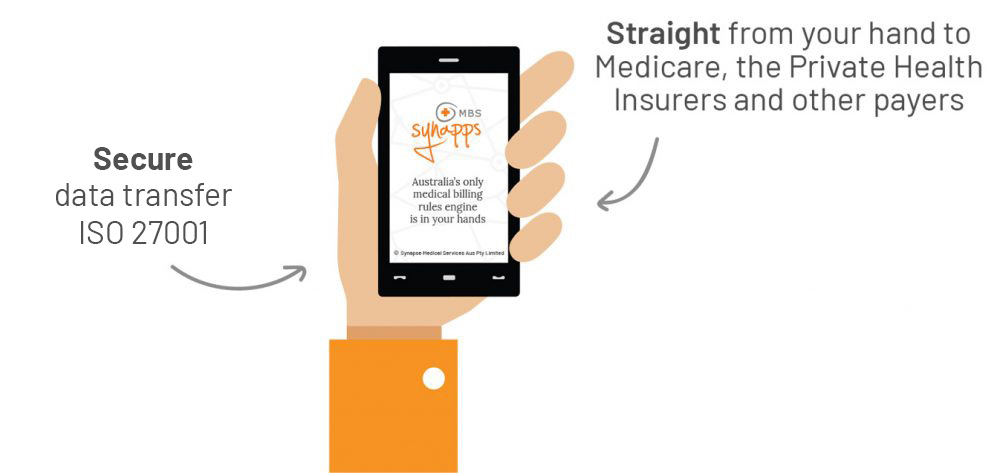 All prices quoted ex GST. Synapse reserves the right to change pricing at any time
IFC Features
IFC is pre-payment only. Includes initial SMS message and payment processing with full explanation of fees and rebates when the patient calls to pay
Free merchant facility included (bank fees may be charged by the financial institution)
Theatre lists and patient contact details, including mobile phone number, must be provided to us via the app by 9:00am no less than 3 full business days before the date of service
You must send your billings to Synapse via the app within 24 hours after you have provided the service to enable us to promptly process rebates for your patients