Welcome to our second newsletter for 2013 and before you start trawling through your emails to find our first 2013 newsletter, it was actually a 'virtual' newsletter because we virtually didn't have time to write it!
The year is travelling at a cracking pace and there's much to report including the release of the Android version of Synapps and other app updates, the new Australian privacy legislation and important information concerning recent increases in Medicare compliance audits.
What's more, we're developing our new virtual reception service, which will allow you and your patients to book appointments during working hours five days a week and we would love your input.
In the article 'Contracts, Claiming and the Colon' we put the Medicare rebate under the spotlight and we're also preparing doctors using the old billing systems for the official end of the Medicare voucher system and guess what? It is upon us.
Back at the office, we have waved Larissa off on her back-packing adventures and welcomed many new team members to Bondi Junction. We continue to love our swanky new office and extend an open invitation to you all to drop in anytime if you're in the area. The Nespresso's on us.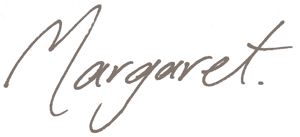 Margaret Faux
Managing Director
Synapse Medical Services
---
Medicare Matters
Compliance audits on the increase in 2013
Some of you may recall the Health Insurance Amendment (Compliance) Act 2011 (The Act) and the circular that was distributed to all doctors in 2011. You can view it at this link http://www.medicareaustralia.gov.au
This year Medicare compliance audits under The Act are on the increase and we are already seeing evidence of this amongst our clients.
The key effect of The Act was to allow Medicare to compel records to substantiate claims for Medicare Benefits, which it previously could not do. In her second reading speech on 17 November 2010, the Health Minister Nicola Roxon said:
"On average, 20 per cent of practitioners contacted by Medicare Australia do not respond to, or refuse to cooperate with, a request to substantiate a Medicare benefit paid for a service. When this occurs, Medicare Australia does not have any authority to require a practitioner to comply with the request. This means that there is no way to confirm that the Medicare benefit is correct. This legislation is intended to address that deficiency."
Here's a summary of what it means in a practical sense, for you as practitioners claiming under the Medicare scheme:
The Act does not facilitate random audits. There must be a reasonable concern by the CEO of Medicare that an amount has been paid that exceeds the amount that should have been paid.
A reasonable opportunity must first be given to the practitioner to respond to a written request to produce relevant documents voluntarily before a formal 'Notice to Produce Documents' is issued – this means you will receive a letter first and will have time to respond to that letter before a formal notice is issued.
The Act only applies to professional services rendered on or after 9 April 2011
Documents containing patient clinical details do not have to be produced unless necessary to substantiate the claims.
The clinical relevance of a particular service is not to be taken into account by Medicare – the purpose is therefore to confirm only that the factual elements of the relevant service have been met.
The information provided by the practitioner can only be used for the compliance audit itself and specifically, cannot be used as the basis of a referral to Professional Services review or for any other civil or criminal proceedings.
Penalties include refunding any unsubstantiated amounts and, under certain circumstances, further administrative penalties (if the amount unsubstantiated is >$2500), which are designed to increase compliance with the scheme. A mechanism is available to seek a review of any decision.
As part of the increased compliance initiatives, we understand that Medicare will issue a letter to all practitioners in 2013, part of which is copied below: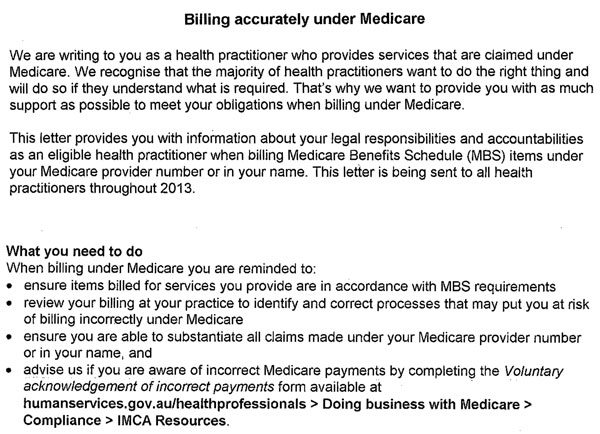 Record keeping will often be the key to substantiating your claims for Medicare benefits and we can't stress this enough. In case it's been a while since you last reviewed what constitutes an 'adequate and contemporaneous record', here it is:
To be 'adequate' the record must:
clearly identify the patient
contain a separate entry for each attendance
provide clinical information to explain the services rendered or initiated
be sufficiently comprehensive so another practitioner can undertake ongoing care of the patient
To satisfy the 'contemporaneous' requirement, the record must be completed at the time of the service or as soon as practicable afterwards.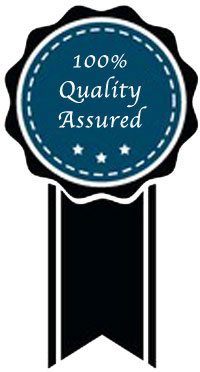 And for our part, we take the business of medical billing very seriously. We understand that you are responsible for the item numbers claimed under your provider number and that errors made by us, could place you in jeopardy. So as part of our standard process, all billing batches are checked 3 times before being sent. We also log any errors identified during processing (all of which will be picked up by the time we reach the final QA check) and we conduct random audits of client billings.
So you can relax knowing that we are taking your claiming seriously but also that we are here to help if something does go wrong. Mistakes do happen and if you find that you have inadvertently claimed something incorrectly such as an item number or a date of service just let us know. We will reverse or adjust the claim on your behalf, including arranging the refund of any amounts incorrectly paid. And if you find yourself on the receiving end of a Medicare compliance audit, we will assist you in any way we can. It's part of our core business after all.
No more Medicare Bulk Bill vouchers
Did you know that on 1 September 2012 Medicare pulled the plug on bulk bill vouchers? Yep, the printing press was stopped and once current stocks are used up, there will be no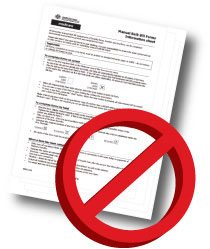 more manual bulk bill claims.
Vouchers are still available as an online version and Medicare will continue to accept vouchers currently in circulation, but ultimately the aim is to get everyone claiming online.
So if you are still carrying vouchers around for your outpatients you can continue to do so but once you have used up your stock what will you do?…Synapps of course is the answer and we are currently working on the necessary enhancements to enable you to bulk bill in a compliant fashion using our app.
For some practitioners who have used paper vouchers only for many years the technological age may be a bit daunting and the use of Synapps may be "a bridge too far", We suggest that those practitioners contact Synapse by phone and we will be able to walk them through the process step by step.
---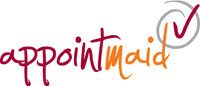 Congratulations to Tanya Huggett who won the 'name our new service' competition late last year, with her entry Appointmaid. Thanks to everyone who participated in finding a great name for the service.
So we now have a name, a logo and an office with people and phones. So all that's left is a bit of fine tuning to settle on service inclusions and make sure it's cost effective for you. But what we know already is that Appointmaid will be more than just appointment scheduling, it's shaping up to be a complete virtual receptionist service. You'll just forward the phone to us and we'll do the rest.
We're always looking at ways to streamline your practice and keep costs down and, after so many requests from clients, we have distilled the most common requests and included them in the new service due to be launched in the coming months.
We'll be the first point of contact for your patients and third parties (such as drug reps and insurers) and will do everything you would expect your practice support staff to do including managing appointments and reminders, organising theatre bookings (we draw the line at opera!), managing informed financial consent, fielding calls and squeezing urgent patients in at the 11th hour.
If there is something else you would like included as part of this service we'd love to hear from you. Just contact Monique on 1300 510 114 or monique@synapsemedical.com.au and let her know what you're thinking and we'll add it if we can.
---
Synapps developments
With new doctors getting started on the app daily, it's been an exciting period for us and the feedback from clients has been both wonderful and sometimes hilarious. Have a look at the testimonials here www.synapsemedical.com.au/testimonials.html
So here's the latest appenings (lol)
Google Play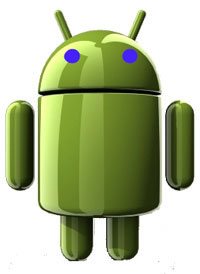 We are finally beta testing the Android app. In house testing took a little longer than anticipated due to a few persistent bugs, but that is all now behind us and we are underway.
Synapps is now available on the Google Play store by clicking this link.You can download the free app and, as soon as we have completed the short beta testing phase, it will be ready for all users, at which point we will Tweet, Facebook and generally shout from the roof tops.
If you are an android user and haven't registered your interest with us, please click here and we will contact you as soon as beta testing is done and Synapps is all yours.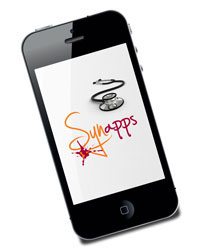 Apple update
A major Apple update will be released shortly, which will include bug fixes and numerous enhancements. As soon as Android is released, we will finalise and release this update.
Tablets
And then comes tablets, both Apple and Android. This project, which is already well advanced, includes synching across devices so that you will have the same data at any given moment on all of your devices – the iPhone in your pocket and the iPad at home or the office.
Synapps dedicated email
We now have a dedicated email for all app related enquiries, assistance and feedback. We look forward to hearing from you and would love to hear how you think we could make Synapps even better: app@synapsemedical.com.au
---
Privacy – Don't be the first MediLeaks / WikiDocs

2013 is the year of the snake and of course lawyers!! For the lawyers themselves, it feels like the year of privacy, as significant changes to this traditionally 'soft' area of law have created the need to get up to speed.
I attended a recent seminar on the subject to become familiar with the new laws and more importantly, to ensure Synapse was compliant. The Privacy Amendment (Enhancing Privacy Protection) Act 2012 passed through Parliament on 29 November 2012 and received royal assent on 12 December 2012. We are currently in an important transition period and, once it expires in March 2014, the commissioner will have a serious amount of clout. Penalties for breaches of privacy legislation have, until now, been mostly educative rather than punitive, but the halcyon days are over. Under the new law, penalties for serious breaches have been set at a maximum of $1.7 million for corporations and $340K for individuals.
The key changes under the new Act are:
Changes to the definition of 'personal information'.
The two current sets of privacy principles that apply to the public and private sectors respectively have been replaced with one set of 13 new APPs (Australian Privacy Principles).
Changes to the regulation of cross border data-flows.
Enhanced powers to the commissioner.
The core amendments do not come into effect until March 2014 to allow organisations time to review and update their privacy policies, collection statements, compliance programs, procedures for unsolicited information and direct marketing processes.
And of course the new federal law needs to be read in conjunction with relevant state and territory legislation relating specifically to health privacy, but what's clear is that now is a great time to look at all areas of your practice to determine where you may be exposed.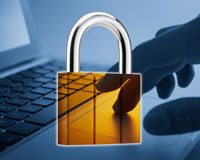 At Synapse we are quite literally obsessed with the privacy and confidentiality of your patients and your practice generally. From shredding every piece of paper in the office, through a blanket company policy not to use email as a means of transmitting health information, to 24/7 security to protect our servers, we take privacy seriously and always have. Our methods of transmitting health information are our secure website portal and the secure apps Synapps and Dictamus, all of which use the best available methods of encryption and security to protect your patient data. If you'd like to read up on privacy visit the OAIC website here www.oaic.gov.au
---
Bondi Junction banter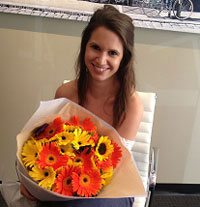 We recently bid farewell to Larissa who has hit the back-packer trail in Europe with her boyfriend for six months. We sent her off in style and the celebrations went well into the night.
But the office is filling up fast with three new team members: Rio, Caitlin and Monique. Rio has joined team geek and has spent the last few months programming Synapps for Android, Caitlin's spreading light and joy on the billing team (and is not a bad singer) and Monique is our new Assistant Manager, who is rapidly getting her head around all things Synapse. You can read about them here…


---
The Medicare rebate under the spotlight
What is the legal nature of the Medicare benefit?
a)    A tax
b)    A levy
c)    A gratuity
d)    A rebate
Find out by reading our latest article, 'Contracts, Claiming
and the Colon', also published in the free The Private Practice (TPP) magazine.
And on that note, TPP 2013 courses are booking out fast so book your place, get your CPD points and benefit from the 25% discount offered to Synapse clients.
---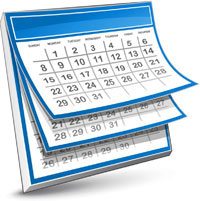 Where will Synapse be this Autumn?
Synapse will be at a number of conferences and seminars in the coming months.
If you wish to discuss any issue to do with your billings, transcriptions or your practice generally and you will be present please don't hesitate to come to the presentation, the booth or text/email Margaret.
24 – 26 May 2013 AMA National Conference in Sydney, exhibition booth, The Westin, Sydney.
26 May 2013 Lecture "Medicare and Medical Billing" for Transition to Private Practice, Private Practice Course for Obstetricians and Gynecologists in Melbourne, College House East Melbourne
17-19 June 2013 Australian and New Zealand Society for Geriatric Medicine, Annual Scientific Conference in Adelaide, exhibition booth, Convention Centre, King William Street.
16- 20 June 2013 7th World Congress International Society of Physical Medicine and Rehabilitation, Beijing China, National  Convention Centre (Please text or email Margaret for appointments)
15-18 July 2013 HIC 2013 Digital Health Conference in Adelaide, exhibition booth, Convention Centre, King William Street.
---
And that's all from us. Enjoy the remaining days of Autumn and the fabulous behavior of our politicians as we move into the non election period!
---