Thanks to technology, Synapse services are only a keystroke away from you wherever you may be. But apart from our ability to be 'virtually' anywhere, we do have offices in the real world.
And the geographic co-ordinates for where you'll find us have just changed – because we've moved.
In this newsletter, you can read about our new bricks and mortar home, as well as what we are getting up to in cyberspace. It's all good.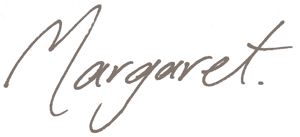 Margaret Faux
Managing Director
Synapse Medical Services
---
New Synapse office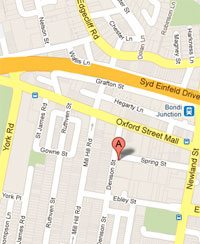 Having outgrown our accommodation, we've been on the search for the right space – comfortable, welcoming and easy to get to. We found it in the heart of Sydney's Bondi Junction, strategically positioned between two of the city's major teaching hospitals: St Vincent's and Prince of Wales.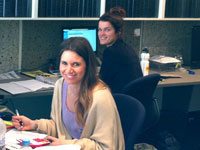 We are now in the process of putting the finishing touches to the Synapse office, and can't wait to welcome you to the official opening in November. All of our clients will be invited to share some wine and cheese with us on a date to be announced. As well as meeting up with colleagues and the Synapse people who have been assisting with your office work, you'll have the chance to play around with the new App (see story below). You'll also have the chance to admire our new place at number 1 Spring Street, Bondi Junction: we are very house proud!
---
Synapps … is almost here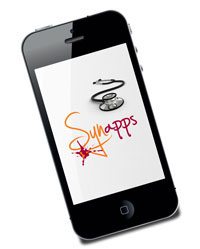 We are currently alpha testing our new Synapse app. We have one doctor who has agreed to put it through its paces with us, working it as hard as we can to see if we can make it crash. With rigorous testing, we hope Synapps will be failsafe when it becomes available for all our clients.
Next week, we'll move to beta testing, and we already have a larger group of doctors at the ready to test the app during this phase. Conducting the testing with us are our wonderful new app developers from UTS. If you'd like to find out more about the process we've been through with developers Alan and Marcus, click here to read an article about Synapps in the UTS newsletter.
Once we are all happy that the app is as bullet-proof as we can make it, we'll submit it to Apple and the Android store. We're hopeful that Synapps will be out there with you by the end of October. We'll keep you posted on its progress via bulletins and twitter…
---
Tweet, tweet

A lot of doctors are keen to know when their reconciliation will be available, especially at BAS time. We start processing reconciliations at the end of the month and are usually finished by the middle of the following month. We can't speed it up by starting any sooner because we have to wait for Medicare, the funds and Veterans' Affairs to get their payments in.
So that you know how things are going, we've started to tweet when we begin the reconciliation, and we tweet during the process as well as at finalisation.
If you want to find out where we are at, you can check our live twitter feed on the Synapse home page of the secure zone. Or if you subscribe to twitter, you can go straight there. We hope this removes some of the anxious wait.
---
Ten key medical billing facts
OK, so there are lots of facts you need to know about medical billing, but we decided to highlight just 10 of the key things which are essential for all Australian doctors to know in our new eBrochure.
Reckon you know what they are? Go to our website and answer the quiz question we've placed there, and we'll email you our eBrochure. Of course, you probably already know the 10 key billing facts including how a bulk billing transaction actually works, whether or not you can delegate responsibility for your claiming and whether you can claim for a telephone consultation or the issue of a death certificate, but why not check them out and see.
---
Chat with us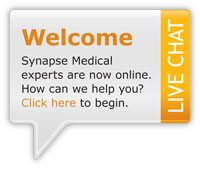 Anyone wanting to talk with us, now has the opportunity to have a 'live chat' anytime we are online. You'll know when we are available to talk when you are visiting our website because there will be notification showing we are online.
And we do believe in being available when we say we are. Anyone attempting to make an online enquiry will be answered.
---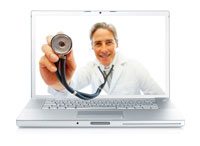 Telehealth – are you interested?
Synapse has been approached by a large aged care facility to help with the provision of telehealth services for their residents. The facility plans to use our app to facilitate the processing for them.
During our discussions, the facility managers mentioned that they are seeking specialists who may be interested in providing telehealth services for their residents: they are in very real need of specialist services.
If that's something you'd like to pursue, please contact me for further details.
---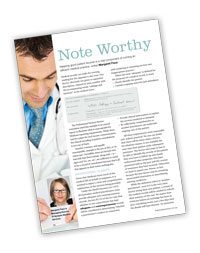 Synapse recently had an article published in the Spring edition of The Private Practice magazine.
Our 'Note Worthy' article explains how important patient medical records are … "Keeping good patient records is a vital component of running an efficient medical practice", writes Margaret Faux. "Well-maintained medical records are a significant asset to your practice. They support your daily work, help you form longer-term strategies in running your practice and allow potential partners to gain a snapshot of the practice.…"
Click here to read more of our 'Note Worthy' article.
---
That's all from us! We hope you've had a great start to Spring and look forward to seeing you all soon at our aptly named 'Spring Street' launch in November (you will receive an official invite soon).
---