Hello Synapse Network,
Welcome to the spring edition of Connect in which we have exciting updates on our revolutionary Synapps Medical Billing System, including a new 'share patient' function, the increasing demand for medical billing education, a new private practice concept for graduating specialists, our new Chennai office and more.
Happy reading…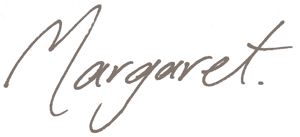 In this issue
| | | | |
| --- | --- | --- | --- |
| New 'share patient' function | Medical billing training, online CME | India Office | Private practice for new graduates |
Read on for these articles and more…

The Synapps MBS new 'share patient' function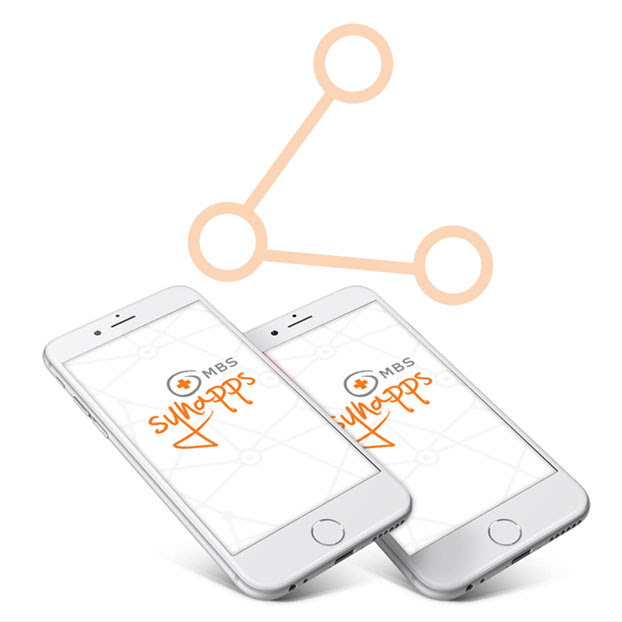 Our revolutionary medical billing system, the Synapps MBS, just keeps getting better. We now have over 17,000 rules in the app to help providers stay on track with their compliance and are thrilled to announce that ICON Cancer Care has signed an agreement to roll the system out across their entire network, which you can read about here.
We also have a number of private and public hospitals trialling Australia's only enterprise level medical billing system designed to handle thousands of providers across large networks, so if you think your organisation or the public hospital where you work could improve the way it manages billing we would be happy to speak with them to arrange a free trial.
Some of you may not know that the MBS system handles ALL billing (outpatients, workers comp, veterans and day patients) not just inpatients. This system processes clinic billings in outpatient settings, accepts credit card payments, lodges claims to Medicare and has the only legally compliant mobile bulk bill function in the country. Plus, there's no extra charges for all of this if your package includes unlimited billing (except any merchant fees). So get in touch with us if you would like to find out how you can get more value out of your current MBS package.
We also now offer a price match guarantee, so if you know a colleague who would like to upgrade to the most modern way of doing medical billing, but stay on the same price they are paying now, please put them in touch with us.

Share patients with your locums in your app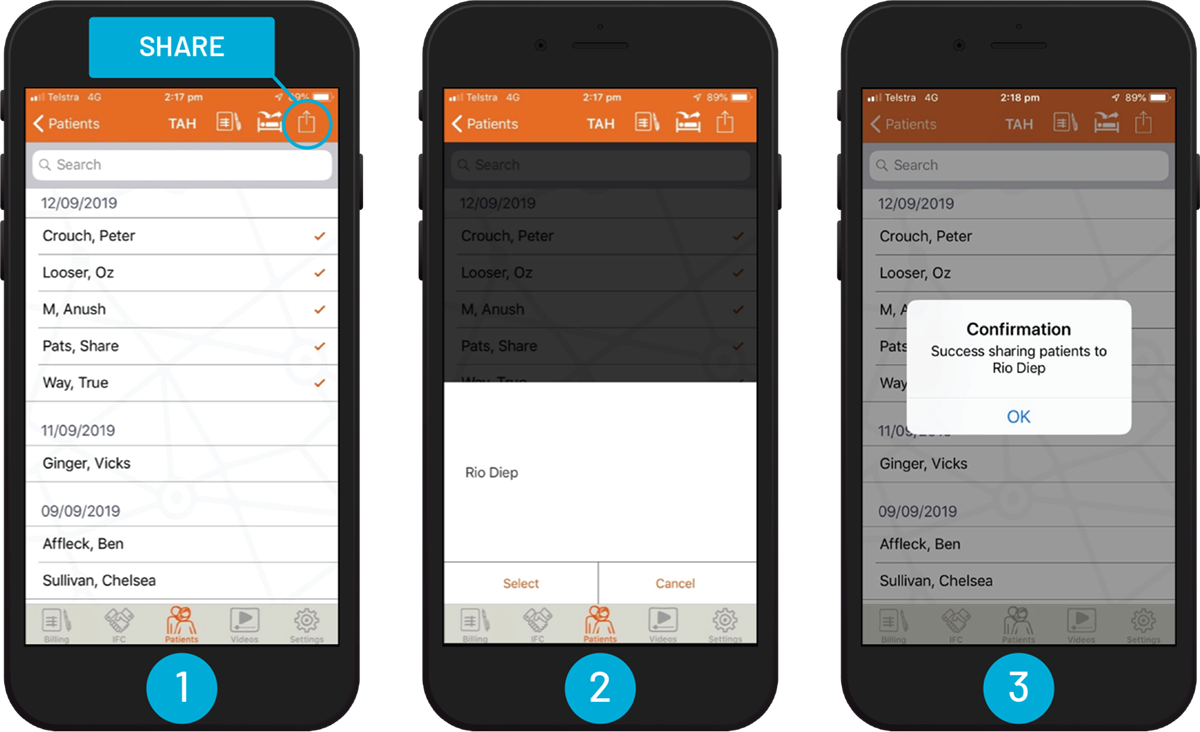 Drum roll… the most exciting news is in version 1.2.3, released this week, which has an amazing new 'share patient' function that will transform the way you handle weekend cover and locums. It's just like sharing contacts in your phone.
Imagine this. You are having a well-deserved weekend off and have arranged for one of your colleagues to cover your patients. With 3 clicks you can now securely share your patients details with your locum before you sign off for the weekend.
Your patients will automatically appear in your colleague's Synapps MBS app ready to bill and we've even included the correct referring doctor details for the locum! Yep, we thought of everything.
It means your locums don't have to collect patient stickers and start the whole billing process from scratch either. They can just select the patients, item numbers and send. Billing done and payments in the bank in a matter of days, with live status updates in their app!
It's really cool so try it out with one of your colleagues who uses the Synapps MBS and let us know what you think. If you have a colleague who is not yet using the Synapps MBS they can try it out using a free trial. Just get in touch so we can add each of you to your locum lists.
We have big plans for our amazing medical billing system so stay tuned. In-app referrals are not far away…

AIMAC The Australian Institute of Medical Administration and Compliance


With Medicare billing scrutiny on the rise, our short, online, low cost medical billing courses are proving very popular.
The courses are tax deductible, attract CME points and don't expire. So buy now and do it later – in your own time, anywhere, on any device and take as long as you want.
Our CEO, who will soon be Australia's first Doctor of Doctor's Billing (she says she doesn't know whether to laugh or cry about that), has written most of the courses, while others have been written by another lawyer with 20 years' experience at Avant. So you know you are in very experienced legal hands and the courses will of course deliver nothing but law, facts and evidence, but with as much humour, videos, gifs and gags as is humanly possible given the page turning subject matter!
Some of the most popular courses are below. You can check them out and many more here.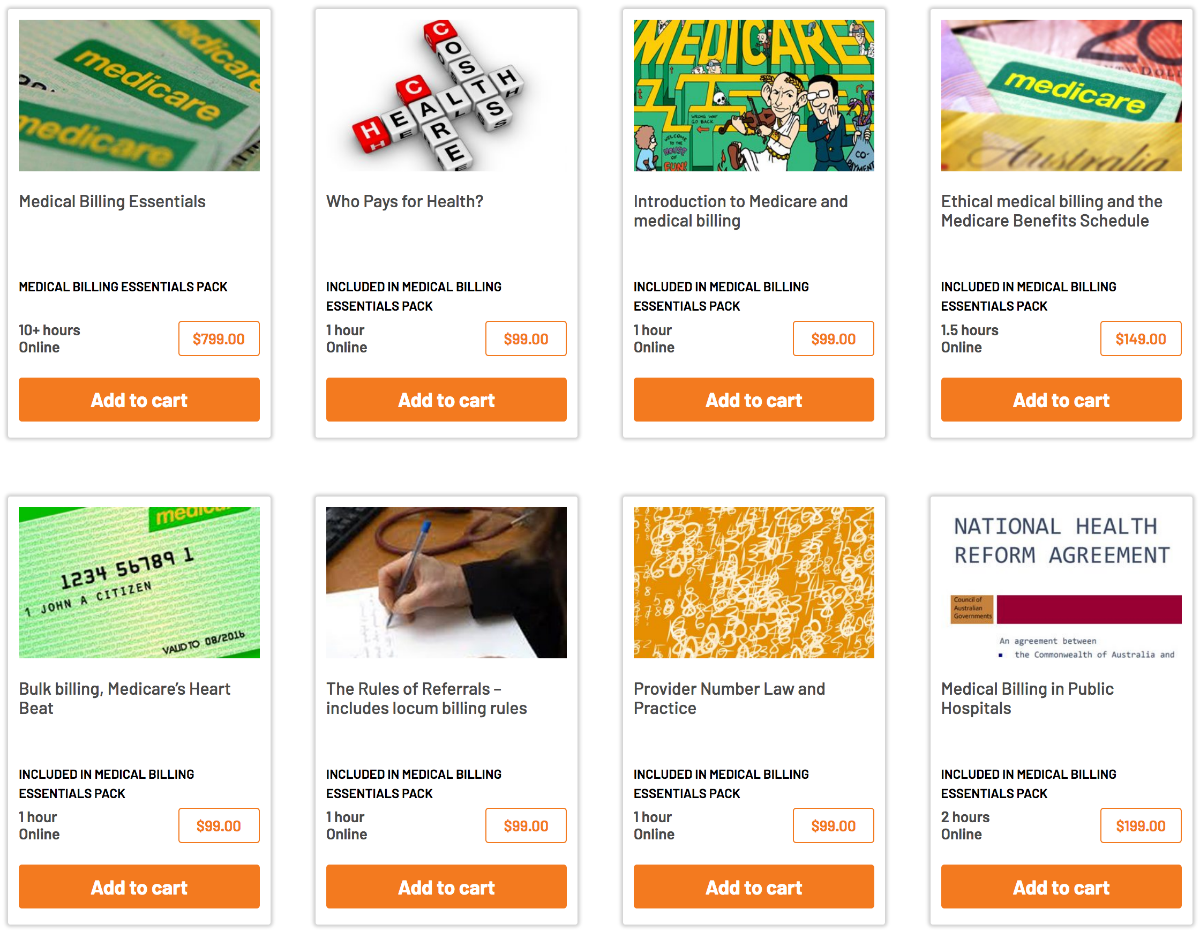 Requests for Margaret to conduct workshops on Medicare and medical billing have been increasing. Recent presentations have included:
The Royal Australasian College of Surgeons on the "Ethical, legal and practical consequences of medical billing and price setting decisions". This is the second year in a row that the Synapse CEO has been asked to present at this workshop.
The Australian College of Nurse Practitioners on "Medicare Billing & Compliance for Nurse Practitioners". The ACNP requested Margaret conduct this workshop twice during their recent annual conference.
ICON Cancer Care "Medicare Billing Workshop". Margaret ran a two hour workshop with ICON Oncologists and Haematologists during their recent Doctors Day event about the specifics of their billing.
Australian Salaried Medical Officers Federation (ASMOF) and AMA inter-council meeting. Margaret was invited to present both her PhD and "The law of medical billing in public hospitals" to the Industrial Advocates and Lawyers working within these two esteemed organisations. She got a whole 90 minutes for this one which she said was not long enough!
If your organisation could do with a medical billing health check or you'd like Margaret to run a free workshop, please get in touch as we'd love to explore how we may be able to assist.

The future is bright for the next generation of Doctors – medical students will no longer be in the dark as they learn Medicare for FREE!!!

For our clients there are heavy discounts.
We are committed to ensuring the next generation of doctors know how to bill correctly from their first day on the job, so our medical billing essentials pack is (and will always be) free for medical students and interns.
And they are snapping it up!
That means that medical students coming through your hospitals may already know more about medical billing than you would expect and they will definitely know the law around bulk billing and what you can and cannot legally bill in a public hospital. As every medical teacher knows you often learn as much from the students as they learn from you – some may end up being a Medicare resource for you, seriously!
So to keep one step ahead of the unencumbered and enthusiastic medical students, Synapse is offering the Medical Billing Essentials pack at the heavily discounted rate of $399 (ex GST) for the rest of the month of September.
You get over $1000 of value for just $399.
It's completely tax deductible, attracts CME points and the courses don't expire. You can do them in your own time and take as long as you want. Here's the link.
Just enter the below coupon code which expires at midnight on 30th September. Coupon code: septemberspecial
Feel free to spread the word and share with your colleagues.

India Office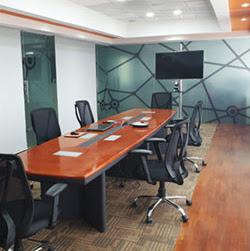 In May, we brought you news that, after a successful 4 year period, we were moving to a brand spanking new office in Chennai.
As ever with the bustling, non-stop environment of business in India the move wasn't without a few logistical challenges. Mainly because we had to move a whole office (furniture and all!) over just one weekend whilst making sure that we had connectivity and a live working space for our staff by the Monday morning!
The teamwork showed by our team was inspiring as we worked day and night to make sure the office was ready for our clients for the start of the following week.
The new office is bigger and has extra facilities such as a training room for our growing educational arm. The Wi-Fi (better than we have in Australia) and air-conditioning (so very important in India!) are also first-class and we are now fully functional in our new space.
We have some wonderful guests arriving in Chennai next week for the official inauguration and we look forward to bringing you images of this very exciting event. Our doors in Chennai are always open and we love showing visitors from around the world the professionalism and security that gained us ISO 9001 and 27001 status.

Private Practice for new graduates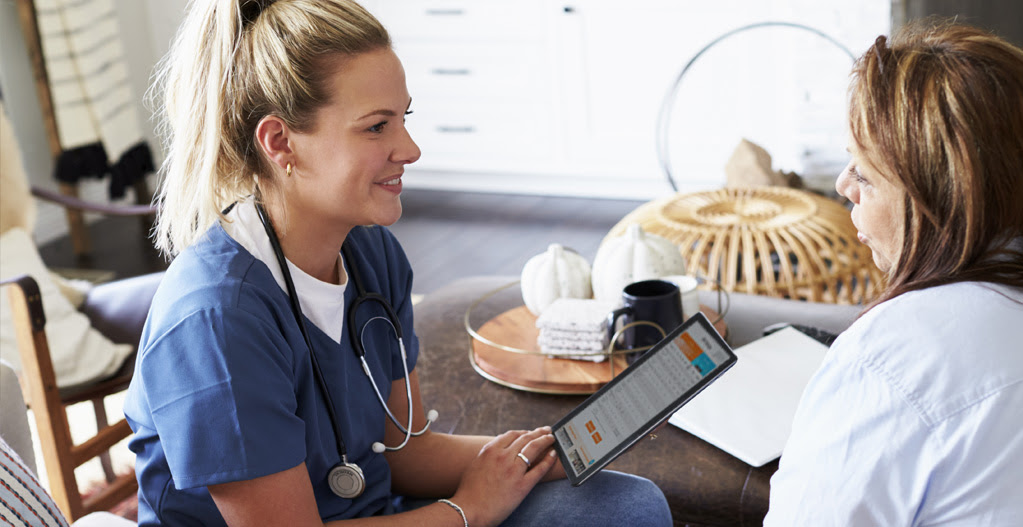 After working in the private practice space for decades, we know well that setting up a private practice is daunting, expensive and to be frank, usually very old fashioned. The offerings out there seem to have fossilised – get a loan, find rooms, do expensive fit out, get website, employ expensive staff, outsource billing, typing, marketing, accounting, pay expensive practice management software licence fees and so on.
So we've been thinking a lot about how we can help new graduates dip a toe into private practice with a less burdensome model. All they really need is patients and a way to get paid, right? So we have been working with one of your specialist colleagues and a few other disruptive vendors to bring together a simple, quick, low cost solution to get new specialists set up in private practice with everything they need at a fraction of the usual cost.
Initially we think the package will be best suited to geriatricians, rehab physicians, gen med physicians and any specialty that is not heavily equipment or rooms dependant. Many specialties do not need rooms, or could simply share a room for a few sessions a week with a GP or other colleague. This is for them.
We're putting together the final details at the moment and will start with a webinar session in November. So please share this newsletter with all the graduating specialists you know, who you think might be interested, and they can contact us and register for the webinar.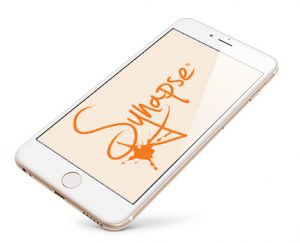 Thanks to all our connections and clients for a wonderful 2019 to date. Keep your eyes out for our much needed non-clinical educational courses, which are coming very soon. We are just applying some finishing touches. If you want to discuss anything mentioned in this newsletter please don't hesitate to get in touch here.
Margaret and the Synapse Team.