So here it is, Merry Christmas!
Welcome to our final update for 2021, which was another difficult year with the world still battling a pandemic.
At Synapse, we continued to make the best of it, by firstly keeping everybody safe (we continued to work from home, and supported our team in every way possible to get vaccinated) and secondly, by remaining busy and focussed on improving our services, technology, and customer service.
I was finally awarded my doctorate on Medicare claiming and compliance, our education academy got a revamp, we added hospital accommodation billing to our flagship medical billing system, we integrated automated clinical coding into the hospital billing functionality, and Aircoder has been getting a lot of international attention. I now contribute a regular fortnightly column to the TMR's Money and Medicine publication, our bush telehealth project has been going from strength to strength, and we have big plans for 2022.
Read on…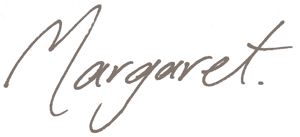 Happy Christmas 2021 from Synapse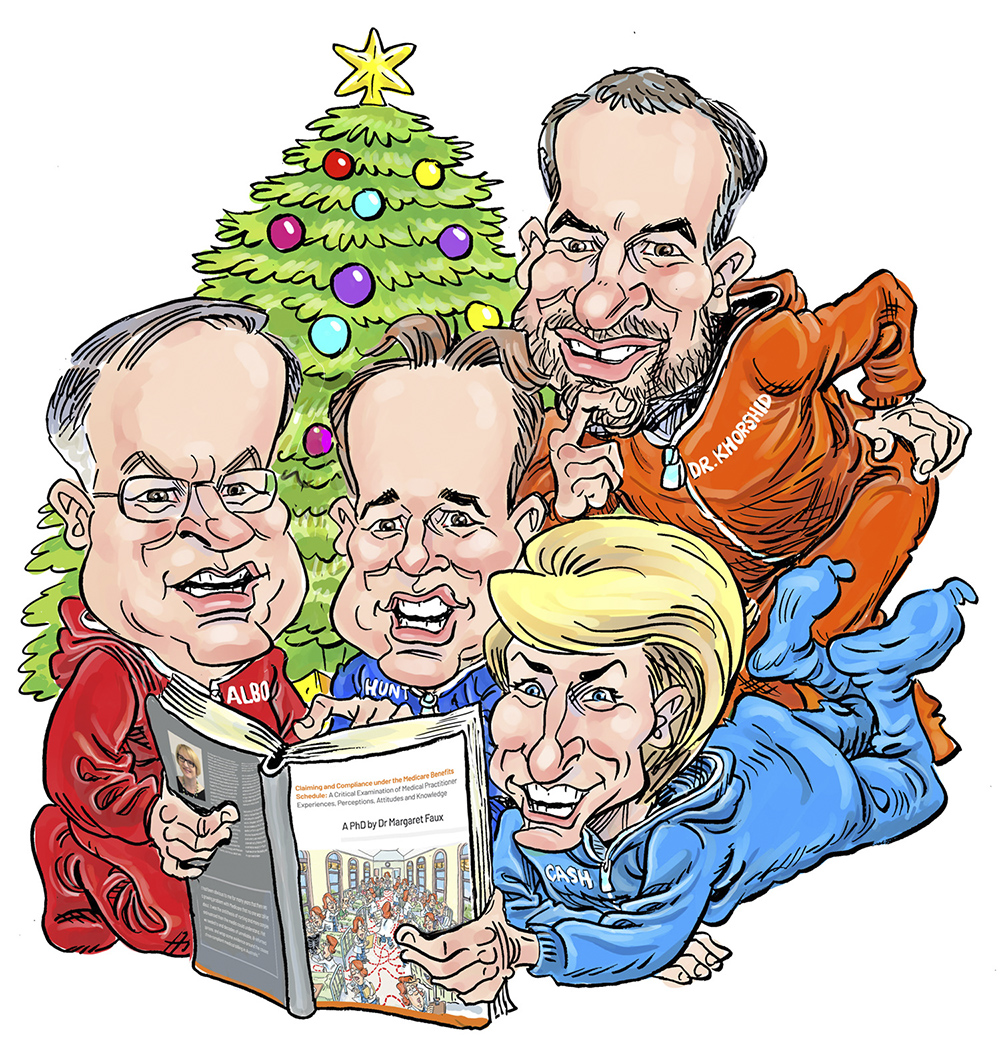 The kiddies all agreed on the perfect gift this pre-election Christmas.
Be well and safe this festive season.
From all of us at Synapse.

In this issue
| | | | |
| --- | --- | --- | --- |
| Medicare PhD – Dr Margaret Faux | AIMAC – learn from the experts | Our flagship Synapps MBS has over 65,000 medical billing rules keeping rejections under 1% | Aircoder – the second year |
Read on for these articles and more…

Medicare PhD – Dr Margaret Faux
Some of you may recall that in our Christmas newsletter last year I advised that my PhD had been submitted. Some of you may even recall that the year before, my aim had been to get it finished.
Well finally, in October 2021, all revisions were signed off, and I officially became Australia's only doctor of medical billing and compliance.
Nine years, 474 pages and 120,000 words of Medicare law is not for the faint hearted, but some of you hearty souls have purchased copies already which are on their way to you.
The novel nature of my research topic demanded a tailored approach. By that I mean the methods did not include the standard RCT type structure. This is great news for readers. It means that this thesis actually has a narrative journey – it tells a story. Plus, it has a great cover design! So for the medical billing enthusiasts out there, here's a link if you'd like to purchase a copy.
It gives me immense pride to be the first recognised expert in this nuanced and difficult field of research.


AIMAC – learn from the experts

This was a year of huge growth for our education academy, AIMAC. We revamped the website to include new offerings (subscription tiers and new content) and had record sales as doctors, hospitals and healthcare providers across Australia signed up to increase their knowledge of how Australia's health system works and how to bill correctly.
We also created bespoke offerings for specialty groups, such as a recent two-part webinar series for the Australia Association of Psychologists which incorporated specific content around their unique Medicare billing and record keeping requirements.
If you'd like to discuss a webinar session tailored to the needs of your practice or specialty, please do not hesitate to get in touch.
We also ran the inaugural Synapse webinar on 14th December, which was the first in a planned series of FREE webinars teaching legally correct billing practices – the first of their kind in Australia. And engagement was huge, with almost 300 registrants.
We covered off the basics in this first event and will be continuing throughout 2022, with specific webinars already planned on each of the following topics:
Provider number law (it's quite a mess)
The law of referrals (a minefield)
Medical billing in public hospitals (an omnishambles)
Record keeping requirements
Audits and the PSR
Hospital Substitute Treatment vs Hospital in the Home (no, they are not the same)
Please let us know of any particular topics you would like us to cover.
In the meantime, you can start to build your knowledge by availing our popular 50% discounted "I Know Nothing" package, which is still on sale till the end of the year at this link.
And don't forget to lodge medical billing questions and get legally correct answers for FREE at mbsanswers.com.au. There will be a lot of new answers added to that site over the holiday period.
Click here for our 50% discounted package

Hospitals – Code, bill and transmit to payers with no human touch!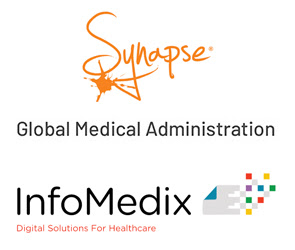 And not before time.
Pressured global health budgets can no longer sustain large workforces of billers and coders, and Synapse is committed to continuing to provide digital solutions to these old-fashioned and expensive manual processes, by using machine learning and smart technology to completely automate the entire revenue cycle and clinical data journey.
Just like our amazing medical billing system, we have worked similar magic for Australian hospital accommodation billing.
Hospitals can now discharge the patient with one click, and the episode will be auto coded, billed, and sent to the payer before the patient is out the door!
And in even more exciting news, we have fully integrated this amazing system with the digital medical record of one of our partners, Infomedix, which means we can now offer a complete solution for hospitals of all sizes, at a fraction of the cost of expensive PAS and EMR bundles.
This is for the futurists! Those forward-thinking hospital managers and directors who are ready to let go of entrenched, manual, expensive coding and billing systems, and redirect precious health dollars to frontline patient care.
We are very proud to once again be leading the market, by being the first to have completely automated the entire revenue cycle journey in Australia.
We have hospitals already signing up to trial this ground-breaking new system and will be updating our website with more details next year.
But, if you're a hospital and would like to find out more or arrange a demo please contact us here.

Our flagship Synapps MBS has over 65,000 medical billing rules keeping rejections under 1%

There is simply nothing that comes anywhere close to our rules based medical billing system, as more and more doctors and hospitals will attest. The proof of the effectiveness of our rules engine is the massive reduction in arrears. Multiple corporate clients have now reduced their arrears from over 20% to under 1% – it's massive!
Stopping incorrect claims at the start has always been our aim. It is just better for everyone if we don't waste precious time and money chasing rejected claims, only to find that half of them should never have been submitted in the first place because they were wrong.
In addition to doctors and hospitals, we are also now attracting allied health practitioners, and are integrating the Synapps MBS with other software solutions, all of whom are recognising the clear benefits of rules-based billing.
Our customer service team who support this product, led by Thom Soutter, deserves a mention here because they have continued to receive glowing feedback from clients throughout the year. Go team!
The Synapps MBS is a mature, powerful machine, that has fun features like dashboards, as well as the only compliant mobile bulk billing function in Australia. It also accepts credit card payments, can be used with or without the app depending on your setting, and much, much more.
And big news for 2022 is a Practice Management System integration, so now's a great time to get onboard. To find out more, why not start with a FREE trial by clicking here.

Aircoder – the second year

In addition to now being fully integrated with hospital billing, our automated clinical coding solution, Aircoder, has continued to grow internationally in 2021. In addition to clients in Australia, we have resellers across the globe, and partners including our technology partner, Amazon Web Services, and strategic partner Alliance Care Technologies (ACT). ACT's incredible syndromic surveillance system (integrated with Aircoder) is currently being piloted overseas in the context of pandemic preparedness. It's a very exciting project, and we will have some special announcements about it very soon.
If you would like to arrange a demo of Aircoder please get in touch here.

TH4B


With our research partners in the Northern Territory, Simbani, we have developed a technology based solution that connects doctors, specialists and nurses to patients in the same way ride sharing companies connect drivers and riders. The Synapps MBS in-app referral functionality means a primary healthcare provider can dictate a referral and send it to the app of a participating specialist in a matter of seconds. This function has been central to the success of this project.
So far, 38 patients have had an appointment through the TH4B Trial. Some have also had more than one subsequent appointment with a specialist, others have had pathology and diagnostic imaging services provided and two required surgery. One of these patients did not have Private Health Insurance (PHI), so they were linked into the public system, and had their surgery within a few weeks. But we also have other options for patients requiring surgery – through a self-pay private fee at low cost from one of TH4B provider network, or we have no-gap surgeons for patient who have PHI.
Through collaboration, this new model of service delivery may address gaps in health care for regional and remote Territorians, including remote Aboriginal Communities and cattle stations. We are looking forward to continuing with this most satisfying project in 2022 and would love to hear from you if you would like to get involved.

Thank you all for continuing to support the Synapse journey through 2021. We very much appreciate and value your engagement.
Have a safe and restful holiday season everyone, and we'll see you all in 2022, when the promise of an election by May should keep us all entertained!
From Margaret and the Synapse team.